Toronto Diary:
Day One
Slow Start
Toronto, Ontario, Canada, July 11, 2003 — The "Long Beach of the East" got off to an unchacteristically slow start thanks to traffic, rain, and a "covered" up crowd.
Traffic. Toronto is a great city ... except when there is construction. Combine that with Lakeshore Boulevard being shut down for the race and rush hour on a Friday, and you could just as easily be in New York City, without the crazy yellow taxis. That got this reporter off to a slow start, arriving at the track after the first Champ Car practice session, and barely before the second practice session.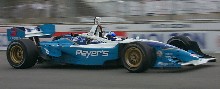 On the track, a street circuit is typically the cause of traffice jams, and not surprisingly, blocking was once again on the agenda in the post qualifying comments, with Michel Jourdain, Jr. once again lobbing shots at his friend and rival, Paul Tracy. Max Papis also got in the way of Patrick Carpentier coming out of the last turn on one lap. The drivers should have been more concerned with avoiding rain instead of each other.
Rain. Some drivers like rain, some don't. However, just about every driver hates it when Mother Nature won't make up her mind. If it is going to rain, let it rain, and get the car ready for the wet, is the way most drivers tend to feel. But to have a session alternate between wet, dry, wet, dry can be nerve wracking.
Early rain slowed up some of the early morning practice sessions, especially the second Champ Car outing. Few drivers went out till late with the biggest surprise being Jimmy Vasser, a self confessed "one legged duck" in the wet. It really changed the complexity of afternoon practice for the Fran-Am series. It started out dry before a shower caused all the cars to come in for treaded tires and head back out to get a feel for the slick track. Finally, for the Champ Car qualifying session, threatening clouds caused many teams to go out early and get their quick laps in as soon as possible. Outside of some drops here and there, the rain held off. At least for today. With a forecast of scattered showers for Saturday, Mother Nature may continue to get the last laugh.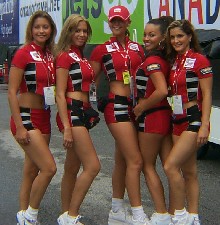 Crowd. The weather didn't have too much of an effect on the fans turning out, but it did seem to sap some of the traditional Canadian enthusiasm. A lot of the fans remained indoors for most of the day at the various exhibits and booths. The beer gardens had sparse attendance (you know something is wrong when a beer garden in Canada is not packed). To add insult to injury, thanks to the cool weather, the scenery was not quite as pleasing to the eye. Thankfully, the sponsor babes helped fill in the gap.

Photos by
Copyright &copy 2003 by Russell Jaslow and Deep Throttle. All Rights Reserved.