Miami Driver Interviews
Miami, FL, September 28, 2003 ó Julie Andre scours the Miami pit lane and paddock to solicit drivers' thoughts on the pending buyout by OWRS and this year's track conditions.
JULIE: What do you think about the buy-out by the OWRS group? Do you think that this buy-out will secure Champcar racing in the future?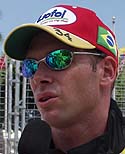 HABERFELD: For sure, CART is the greatest series in the world in my opinion! You have every type of racingóroad courses, street courses, airports, and ovalsówhatever you want. It is really competitive, and you canít get any better than this. I hope that they can make it work because they have all the ingredients.
BOSS: I certainly hope so. I do not know all the details obviously, but a bunch of guys have showed a commitment to the series that can only help.
LAVIN: Oh, definitely yeah. I think they are going to do a great job for us next year!
MONTEIRO: Itís great. I love this series. I want to stay here as long as I can. So, it is a great opportunity for the series to grow and expand. I am sure they are going to do a great job. I am really looking forward to hearing more news about it.

MANNING: Yeah, I think so. It was pretty rocky this time last year. I came to the Miami race last year trying to get a ride. I signed up when it was all doom and gloom at that stage. I think it is a lot stronger at this point in time, and I am looking forward to it. We got new sponsors, Sportsbook.com. You donít see many sponsors coming in midway through the season, and they are doing a hell of a lot, and they love it.
MORENO: I think the move itself tells me that CART is going to progress because the people involved are very successful business people, and they know what it takes to keep it running next year and develop from that. They are all behind it, and I am sure they will make it successful. We have one of the best racing series in the world as far as open wheel racing is concerned. They have got to make it succeed because it is their interest now alone. They know the risks, and they know what they need to do. I think there is a good future for CART.
VASSER: From what I hear, it is going very good, but it is going to take a little time. I think that this series has too much good entertainment to let it go away. I hope they can achieve what they want.
TAGLIANI: I think so, yes.
SERVIA: Well I think it is great because all this time there was speculation and a lot of bad mouthing about CARTís future, and now they canít. I think it is great because if somebody is buying it then it means that they think that they can make a profit from the series and that it is a good product. Also, the people who bought it have a lot of money, so they can invest in it and address its needs.
DOMINGUEZ: I think itís going to help CART in the future. I think the investors have a lot of experience in motor sports, so they are obviously going to give it 100%, and that is what CART needs.
JULIE: Can you describe the track conditions? Are there any areas where it can be improved?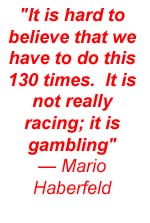 HABERFELD: It is hard to believe that we have to do this 130 times. It is not really racing; it is gambling. Every time you go over that bump you are not sure if you are going to hit the outside wall or if you are going to be OK. You just go over it and close your eyes and hope that everything is OK. The circuit is fine except for that one area. They need to continue to smooth it.
BOSS: We actually made some changes to the car anticipating the bump, and CART worked on softening the bump. So a little combination of what they did and what we changed on the car helped. They are not going to make it go away but any additional work would be welcome. Itís the same for everybody. The bump is the only problem with the track. Everything else is fine. Itís a street circuit; itís part of what makes them unique and challenging.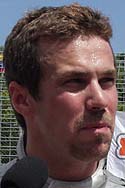 MONTEIRO: Well the bump is still there unfortunately. It is still very bumpy. We jumped all four wheels, and it is really dangerous. I am really worried about it. Overall, the track is bumpy, but you can deal with it, but this bump is really dangerous. They need to try to make it better for next year.
MANNING: It is pretty bad where the bump is, but I think they are going to continue to work on it. The rest of the track is pretty good. Youíre on concrete so thatís pretty slippery but nothing compared to what it was last year. Itís quite a fun little track to drive. If they could sort that out it would be perfect. You are on a street circuit, so we all know what to expect.
MORENO: The track continues to improve every time you go out. For me it is the first time here, and we are doing well every time we are out. Basically, if you get the tire pressures right it is very good. I am going flat through the bump. Itís a challenging track you got to fit in where the challenge is. Itís a tight place and bumpy. I like challenges, and I quite like driving it.

VASSER: The track is pretty bumpy for me. The car is sliding around quite a bit, but I think that it is probably the same for everybody. Itís pretty exhilarating out there, and the tires are still coming in. I like it! The track is more like a Super Cross track than anything, but we can always improve the car.
TAGLIANI: Itís all right. I donít know what improvements it will take to make it better. You have to ask CART.

Photos by
Copyright &copy 2003 by Julie Andre and Deep Throttle. All Rights Reserved.