Laguna Seca Driver Interviews
Laguna Seca, CA, June 15, 2003 ó Julie Andre scours the Laguna Seca pit lane and paddock looking for drivers to answer your questions. Then, she had a few of her own to solicit drivers' thoughts on the upcoming Cleveland night race, status of Mid-Ohio, the new engine package, and what advice they would give Chris Pook.
READER TO BRYAN HERTA: How is the competition in today's Champ Car?
HERTA: I donít know because I have not raced against a lot of them. But certainly the series is still very competitive. Itís always tough at the front. It doesnít have as many of the top guys it has had in the last couple of years, but it has enough of them that it is still not easy to win. Its probably easier to finish sixth.
READER TO BRYAN HERTA: What are your plans for the rest of the year?
HERTA: I donít know. I am going to hang out. They have already hired a full time driver, Max Papis, for the rest of this year. I was supposed to be racing at Pikes Peak this weekend for Andretti Green and at the last minute Dario Franchitti was cleared to drive, so they [PK Racing] called me to do this race, and they said they want to do a second car this year. I could end up doing more races for this team later this year. I just have to wait and see..
JULIE: Cleveland -- What will the differences be running a night race on a road course compared to an oval?
VASSER: Itís hard to say. It depends on how much they light it up. If it is anything like Milwaukee there should not be any difficulties at all.
HUNTER-REAY: Well, I have had a lot of success at Cleveland in the past, so hopefully that carries over, but I donít think that it will be really difficult. I was a little bit surprised on the lights at Milwaukee. I thought that they would be brighter and resemble daylight more, but it wasnít a huge problem. We had some issues with our car there and we had some issues with my driving that really played a bigger role. I am looking forward to going to Cleveland, and I am really looking forward to running under the lights there. Bringing the tires up to temperature will be an issue.
JUNQUEIRA: I think on the road track especially, it will be a little bit more difficult. Because the first turn is very wide, and it is difficult to see the apex of the corners in the daylight. I think that this will be a greater problem at night. On the other hand, there will be less heat on the raceway, so it wonít be so hot! I will be glad to race at night there.
CARPENTIER: For sure it is going to be much more difficult than Milwaukee. There are no points of reference and it is hard to tell where the corners are, so it will be a little bit more difficult. But normally, your eyes get used to it, and you end up getting accustomed to it. We will have to see how it goes, but it is going to be different.
JOURDAIN: Cold tires on a road course is going to be harder, and Cleveland is very hard on cold tires, so I think that will be the biggest problem. I was a little worried about the lighting but after what I saw at Milwaukee I am not worried. They did such a perfect job at Milwaukee.
HERTA: Last week I raced at Texas at night, and it was really good. It was really well lit up. It just depends on how well they light up the track. If they do a good job and light the corners well and make sure there is plenty of light for the drivers to see the apexes I think everything will be great.
JULIE: Would you like to see CART stay at Mid-Ohio, or have the cars outgrown that track?
VASSER: I love Mid Ohio to drive around. I think it is probably not the safest place. It could be safer, but I think that it is a good venue for CART. I would like to see them stay.
HUNTER-REAY: The history there is awesome. The track is great to drive. Itís a bit tight for these big cars, but you know we went and raced at Brands Hatch and that was pretty much a go-kart track. Mid Ohio should definitely stay.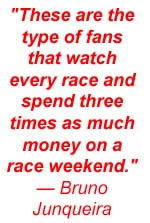 JUNQUEIRA: I love Laguna Seca, Portland, Mid Ohio, and Road America. I really hope that CART keeps this race on the schedule. The good thing about CART is they have these road courses. I mean Mid-Ohio may not be as popular as Laguna Seca or Road America, but you cannot lose this track. It has a lot of history for CART. These are the signature tracks of CART. Together with Long Beach, they are the most famous CART races. I definitely do not think that they should lose it. Even though they may not draw a huge crowd every spectator that attends these races are true race fans. These are the type of fans that watch every race and spend three times as much money on a race weekend.
CARPENTIER: No, the track is still pretty nice for those cars. Just as long as they get people to go watch the race. Last year we seemed to have a lot of people. No, I love Mid-Ohio, so I would want it to stay.
JOURDAIN: It is a fantastic track. It is great to go back there every year. Hopefully, we will be able to return next year.
HERTA: I think CART should keep racing at Mid-Ohio, but it is not up to me. I think it is a great track. I remember 7 or 8 years ago, it was crazy. You couldnít even get out of the place. We used to have to take a helicopter to get out because the traffic was so bad. All of these fans still live around there. They just havenít been going to the races, but that doesnít mean they wouldnít go again someday.
JULIE: If you could make one suggestion to Chris Pook, what would it be?
VASSER: I donít make any suggestions to Chris Pook.
HUNTER-REAY: I think that he is doing a great job. He could improve on the marketing. We need to get our name out there more. We need to be on network television more and bring up our T.V. ratings. Whatever that takes. I know CART marketing is doing the best they can, but I see a lot more of the IRL in stores than I do CART. If you walk into a 7-Eleven obviously you will see Michael Andretti. CART needs to do more commercials so you can learn about the driverís personalities. CART should have commercials on a regular network program. We donít have that, but the IRL does.
JUNQUEIRA: I made a suggestion a few years ago to Joe Heitzler, but I was a rookie, and I made the same suggestion to Chris Pook. I think he should try to get a deal with all the F1 engine manufacturers and run exactly the same engine spec. Why? Because they spend close to $100 million dollars to build an engine for one team for two cars. For them it would be very cheap to get into the American market and spend $10 million dollars and get engines for two or three teams in CART. Then, you will get Honda, Toyota, and Mercedes back. All of these companies are in the American market. Maybe a rev limiter for 16,000 revs could make the engines last longer and you still have a lot of power. Also, you would be using gasoline which would possibly bring in the oil companies. He needs to act fast because teams are already looking to next year for sponsorship, so he needs a solid plan and schedule.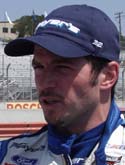 CARPENTIER: I think Chris is doing a really good job actually with everything. One thing I would say is to bring the tunnels underneath the car back for the ground effects especially for the road courses, not on ovals but on road courses. This would allow you to do a little bit more passing because the tunnels are not as affected as wings are when you are passing a car.
JOURDAIN: Chris is doing a fantastic job. I am really amazed. He is doing everything he needs to do. I donít know, today I told the engineer to change my car and he didnít. I guess everybody knows what they are doing.
HERTA: I donít know. I think he has one hell of a tough job. The last thing he needs is advice from me. I donít think I know the answer to fix the series -- itís a Rubicís cube. Chris and everyone in CART is doing everything they can to make the series what it was in the past, but I would just rather worry about the driving part and leave the rest to him.
JULIE: Would you like to see CART run at Sebring during the 12 Hours weekend for a racing extravaganza?
VASSER: Not really. I donít think Sebring is really up to the standards that CART needs to race at a track. Itís very unsafe, and the surface is really old. We test there on the short circuit, but on the larger circuit I donít think it would be good for CART.
HUNTER-REAY: No, we canít run at Sebring because are cars are too low and the runway is too bumpy. If they paved it maybe we could.
JUNQUEIRA: I have never been on the full Sebring track, but I think that it is really bumpy and that is why we do not test there. If they could repave the circuit it might be a good idea.
CARPENTIER: That might be good. I never thought of it. They would need to improve on the safety features around the track a little bit more, but it might be an interesting idea.
JULIE: Over the next six weeks, CART has to decide what type of engine package to run for 2005. Do you think that CART should run a V-10 normally aspirated engine or continue with the V-8 turbo?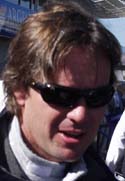 VASSER: If it brings in more sponsorship and more engine manufacturers put more money in that will change the economy. V-10 is a great engine but right now it is whatever is economically feasible, but they would most likely have to keep the F1 engine spec.
HUNTER-REAY: Pretty complicated deal really. I mean if you throw it up in the air. Going the V-10 route could have a lot of success in the future, and it could be right up CARTís alley. CART does a lot of road racing and they would be with manufactures who are linked to road racing which is the V-10 formula, but it could end up biting them in the ass. It could go either way. Good luck too them whichever way they go, and I will be with them.
JUNQUEIRA: I think the F1 engine is the way to go. They can not build a new V-10 for CART. They need to use the F1 spec. For CART to become strong we need at least three engine manufacturers, five would be ideal.
CARPENTIER: They have to go the way the engine manufacturers want to go, to get people involved in the series. Whether it is turbo or non-turbo, V-8 or V-10 it doesnít matter to the driver. As long as we have an engine that pushes the car and has at least 750-800 horsepower.
JOURDAIN: The formula we have right now is great. Cosworth is doing a good job. If they are going to get a lot of engine manufacturers coming in and they can keep the costs down then I am up for the V-10 change. Money from the manufacturers is very important and as long as they keep the costs down it will work. Not controlling costs is what almost killed CART.
HERTA: Itís what the engine manufacturers want. For the fans it will be the same as long as the horsepower is the same. It doesnít matter if it is a V-10 or V-8. The only thing that will be really cool for the fans is the sound. As long as they have an engine that sounds good, thatís always nice.
Copyright &copy 2003 by Julie Andre and Deep Throttle. All Rights Reserved.