Denver Driver Interviews
Denver, CO, August 31, 2003 ó Julie Andre scours the Denver pit lane and paddock to solicit drivers' thoughts on their reactions to single car qualifying, this year's track conditions, and what they will do with their time off.
JULIE: What are your thoughts about the single car qualifying?
TAGLIANI: Yeah, it is fine. I think for this particular track when it is so tight itís better because there is so much traffic, and it would be difficult to get a clean lap. I think there are still a lot of things to change. You have to deal with the weather, and if it is raining when the first guy goes out to qualify he is at a disadvantage. It is still a little bit of an unfair situation. Hopefully they can fix it in the future.
LAVIN: I think it is great for all of us. It is much more comfortable and provides the same opportunity for everyone.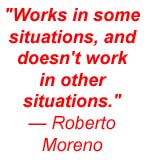 MORENO: Works in some situations, and doesnít work in other situations. I think it is important for traffic, but, for example, in a situation like today it would help us a little bit if we had tire blankets to warm the tires up before we go out. There wouldnít be any problems if we wouldíve done that. I think we just need to fine tune it a bit, but it is quite good at some tracks.
VASSER: I think itís fun, but it didnít work out good for me. We were terrible out there today sliding around.
JOURDAIN: I like it. Itís good because nobody has problems with traffic, and that is good. The only problem is the track keeps changing. So, it could be better for some guys and not others.
SERVIA: I think it is the way to go especially on the street races. It is more fair. I also think it is good for the people out there because they know what is going on, and they can see the car qualifying. When everybody is out there they donít know who is on a hot lap, and it is hard to see when a driver is really going for it.
BOSS: I think it is really neat. We have done it in the past on the ovals and this is the first time on a street circuit. I think it focuses everybody on that particular car and that particular moment. You only have a couple of laps and you donít have much room for mistakes, so I really like it. Obviously, we are going to do it again at Miami, and it will be interesting to see if we do it full time next year.
JULIE: There were many concerns regarding track conditions last year. In your opinion have they improved the track, and what work still needs to be done?
TAGLIANI: Itís a little bit better, but itís still a very difficult track. It is rough and slippery. Coming from Montreal to here is a big change.
VASSER: It is a bit better than last year but not a ton.
JOURDAIN: They improved the bumps a lot. It is still very slippery, so they will need to focus on that area next year.

SERVIA: They have done a huge improvement on the bumps. With this car it is drivable. Last year the bumps were too big and now it is nice for everybody. It is still very slippery, but again, it is the same conditions for everybody.
JULIE: What are you going to do with a four week break after such a hectic summer schedule?
MORENO: That break is welcome to my family. I am going to spend a week at home with my kids doing some things that I donít have time to do when we are traveling.
VASSER: Just relax and do a little testing with Ryan. Help him out on the ovals.
JOURDAIN: No testing. I plan on relaxing.
SERVIA: We are actually going to do some testing at Sebring in the middle of September.
Copyright &copy 2003 by Julie Andre and Deep Throttle. All Rights Reserved.