Vancouver Driver Interviews
Vancouver, BC, Canada, July 28, 2002 — Julie Andre scours the Vancouver pit lane and paddock looking for drivers to answer her questions. She asks various drivers their thoughts on the popularity of street circuits, the new Denver race, their plans for next year, and what they need to improve for the remainder of this season.
JULIE: There is always a large turn out at the road course/street courses. Why do you think these events have a better turnout?
JUNQUEIRA: I have no idea. I came to the series last year. The series does not seem as strong as it was in 1996 when I went to see the race in Laguna Seca. There were a lot of people there. It's a shame because some oval races can be exciting. For sure, if you have more downforce and more banking there will be more opportunities to pass which will make it more exciting. When cars can go three wide, that is exciting.
DIXON: Maybe some of it is the promotions. You know it is more of a party or carnival atmosphere. Especially with the Canadian races and the Australia race -- they are a week event. I think people are more aware of the street races because it is downtown and generally more people are around and will come out to watch it if they heard about it. Just a lot more atmosphere, and I think the ovals are not located in the best of places.
KANAAN: I think the ovals are just boring. Some of them not, but obviously people see cars racing on the streets at 200mph, and they are fascinated. The feel for speed for a fan when he sees a car on an oval is not the same as a car going down the straightaway on the street course because it looks faster. Actually, it is slower on the street courses because you keep the momentum going on the ovals. I am up for no ovals.
JULIE: What are your plans for next year?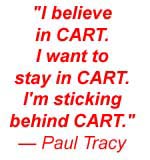 TRACY: I think for me, my standpoint, I believe in CART. I want to stay in CART. That's my future, short and longterm. I'm pushing forward. I'm sticking behind CART. So that's where I want to be. [It is rumored that he has signed with the Player's team for next year.]
VASSER: I have an option with Rahal for next year, so we will see.
KANAAN: My contract is up, and we are trying to talk to Morris about it. Obviously, we have the desire to stay in CART. It is still very early. I am not worried about it. I pay people to worry about it for me. What I am worried about is getting on the podium and having a good season. When you have that, your job is guaranteed. That is what I am looking for. My desire right now is to stay here. I think CART is a great series and we have a good product, so we will see.
JOURDAIN: I do not know. I do not have anything definite right now.
DIXON: Not sure yet. Obviously, we want to stay in CART, but it depends on what Chip wants and what CART decides to do. It depends on where the racing is if I were to go to the IRL. Whatever happens it will be a strange year and a strange off season.
JUNQUEIRA: I do not know which series or team I will be racing in next year. It is still open. At this point, I do not have a ride for next year. Anybody that wants to give me a ride -- CART, IRL, NASCAR -- anything. I will see what offers I get and make a decision.
JULIE: What are your thoughts about the upcoming Denver race?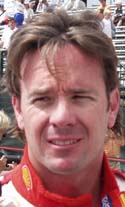 VASSER: I think it is great anytime we get a new street circuit race in the downtown area and in a city like Denver. I think that it is the kind of style of racing that suits CART.
KANAAN: I think that it is going to be beautiful. I think street courses bring a lot of people to the track, and it is going to be like Vancouver -- a lot of people watching the race and that is all we need. We need races like Long Beach. We need races like how it is going to be in Denver or Miami, Mid-Ohio, where the people go and know who we are. People who love racing. I think Chris Pook is doing a great job. He has been a promoter before and knows what to do.
JOURDAIN: Denver is a great city, so I am really looking forward to it.
DIXON: It should be pretty good. I heard a story about a few guys about the Washington race -- the sports guys said it looked pretty good. I am sure CART is doing a good deal there. It is good to get those downtown street races. I think that is where we need to be.
JUNQUEIRA: It's going to be really good. I have never been to Denver, but it looks like a nice place. I have seen the layout and looks like it will be a bit difficult because it is really high. For the first time we are going to race in a real high altitude. That will be difficult for the drivers and the cars.
JULIE: The season is halfway over. What areas does your team need to improve upon before the end of the year?
VASSER: We need to focus on winning races and finishing within the points.
JUNQUEIRA: We need to focus on winning races. Try to win each weekend and be consistent. Beat everybody and win some races.
JOURDAIN: Qualifying. We have been qualifying pretty badly the last couple of races, so that is something we need to work on pretty hard.
DIXON: We have been struggling a little with qualifying our race cars. Especially with Cleveland, I know all three cars struggled to qualify close to the top. With how racing is now that is what you mainly have to do. I am going to keep trying things because it is so tight that you need to keep a step above everyone else.
Copyright &copy 2002 by Julie Andre and Deep Throttle. All Rights Reserved.