2002 Toronto Diary
Hog Wild in Hogtown

Toronto, Ontario, Canada, July 7 — The nickname for the City of Toronto is Hogtown. I kid you not. At first, I didn't want to know why, but curiosity got the better of me. The name was given years ago because of the market-bound swine found in its muddy streets.
For this year's Molson Indy weekend, it was an apt nickname. Cristiano da Matta is going hog wild in CART.
For Toronto, the garbage strike is causing parts of the city to smell like the hogs were once again walking down the streets. And, to top it off, smoke from a forest fire in Quebec caused the city to be enveloped in a muddy haze. Which is a shame, because you would be hard pressed to find a cleaner, friendly, more exciting city in North America.
You would also be hard pressed to find a city more devoted to open wheel racing. Only two cities in America can rival Toronto's enthusiasm -- Indianapolis and Long Beach. Interestingly, there are other three Canadian cities that would argue they provide the best support north of the border for open wheel racing -- Vancouver, Montreal, and Trois-Rivieres.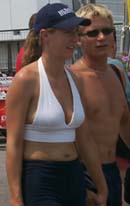 The fans come in droves. And, the fans are hot. There is something unique about Canada and its women ... and men. When the summer heat rolls in, they shed their clothes. They really shed their clothes. It makes Southern California look downright prudish. Maybe it has something to do with the long, cold winter and spending many hours huddled together in hockey rinks and curling halls. When winter leaves, so does their inhibitions.
As for the racing, Deep Throttle already took care of the feature race. The support races were a big hit. The best race of the weekend was the Toyota Atlantic event. Granted, I'm biased, as I love the Atlantics more than any other open wheel series. They seem to have the perfect combination of speed, quickness, power, handling, nimbleness, and aggressive drivers that no other series can match.
I fell in love with them when I saw my first pro Formula Atlantic race at Bridgehampton back in 1979. Back then they had standing starts, and I witnessed it from the Timing and Scoring Tower at the Start/Finish line. That start is still, to this day, one of my most thrilling single moments in racing.
Speaking of that Bridgehampton race, let's take a brief nostalgic diversion. The field consisted of a virtual Who's Who of that era. It included Jeff Wood (the winner), Howdy Holmes (that year's Indy 500 rookie-of-the-year), Kevin Cogan, Jacques Villeneuve (the Uncle), Tom Gloy (that year's series champion), Bob Earl, Dan Marvin, Bruce MacInnes, and John Paul, Jr. (who also ran a Formula Ford). To top it off, the SCCA National support races had Bertil Roos in a Formula Atlantic and Chip Ganassi who won the Formula Ford race with John Paul, Jr. second.
Back to this year's Atlantic race. It was, just like in 1979, a typical Formula Atlantic race. It saw a great move by Michael Valiante, who dove underneath the first and second place cars on an early restart, to take the lead he would never relinquish. It saw a wild crash as Luiz Diaz rode up and over his teammate, Jon Fogarty, in Turn 3. And, it saw dicing throughout the field with last lap moves for position. The huge knowledgeable crowd nearly filled the grandstands to cheer on their fellow countryman to victory as well as second place for Jonathan Macri.
A lot of attention was being paid to Danica Patrick, and before she appeared on the Barber Dodge scene, it was Rhonda Trammell who got a lot of watchful eyes. However, for this weekend, it was little known Ashley Taws who stole the thunder in the estrogen brigade.
This 18-year-old Canadian was the first female to win a pole in the Canadian Formula Ford Championship. After getting off slowly on the standing start, she tangled on the second lap, falling back to 18th place. She then buckled down, and roared back to fourth place at the end in perhaps the most inspiring ride of the weekend.

Needless to say, Toronto racing fans are CART fans. The reason is obvious. If CART should go under, there is a good chance they will lose their race. So, Molson Indy fans go all out to show their support of CART from special T-shirts mocking Roger Penske to signs bluntly stating their opinions.
Friday evening, the group of us went to an indoor go-kart track. The young woman working the ticket booth, as well as other jobs, told us she just finished working all day at "The Indy." Now, she was going to work all night at the karting track. "I love karts the most," she said.
Get any open wheel vehicle on any race track, and Hogtown simply goes hog wild over them.
Copyright &copy 2002 by Russell Jaslow and Deep Throttle. All Rights Reserved.
Photos taken by with a KODAK DC265 Zoom Digital Camera.