2002 Sneak Preview Conversation
Memo Gidley: Have Seat, Will Travel
Laguna Seca, CA, February 9 — It's a dirty job, but someone has to do it. The show, i.e. CART's 20 odd races, simply would not be the same without the readiness of drivers who are available virtually at a moment's notice. I am speaking, of course, of the "super subs," currently Roberto Moreno and Memo Gidley.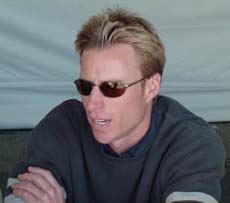 These drivers, if we operated under a more sane method of funding race teams, would have secure full time rides. Because the current CART system requires more funding than talent, Moreno and Gidley, who have enormous amounts of the later and little of the former, make their living by being available in the event the funded drivers are not. Race fans, who can tell the difference between racers with talent and those who wish they did, overwhelmingly support Memo Gidley. In fact, I get more questions about him than any other driver. With that in mind, I contacted Gidley's management for an interview.
I found Memo's people very easy to work with, so after a few missteps, I was able to sit down with him while at Laguna Seca to discuss his career. Of course, an entire mythology has grown up around the engaging Californian, and I'm not one to try to ruin a budding legend with pesky things like facts. However, for those interested in an update on the Talented Mr. Gidley, I hope the following will suffice.
On Last Season: Not surprisingly, Memo rates the Cleveland race, which he nearly won, as his high point of the 2001 season. Even though he began his season one third of the way into the CART schedule, replacing a fired Nicolas Minassian, Gidley scored just three points less than teammate Bruno Junqueira, who contested all the races. He did all this by having his own Lola seat ready with absolutely no testing. Gidley commented that Chip Ganassi was "very fair" with him. But, with no sponsorship on the table, Junqueira is returning and Memo is not. At least, not yet.
On This Season's Prospects: Memo Gidley is highly regarded in the CART paddock. Everyone I spoke to wishes he had a ride for this year. He's open to driving in CART or the IRL. And he hasn't been turning down offers, either. It's all a matter of keeping up contacts within the racing community. When I talked to him, nothing was definite yet for 2002.
On Being A Super Sub: We know he has a Lola seat, and presumably, also a Reynard seat. Drivers looking for this type of work attend as many races as they can in order to see and be seen, and for this reason both Gidley and Moreno could be spotted at the Sneak Preview. Gidley does not complain about the lack of testing, or even the circumstances that leave someone with his obvious abilities in such a relatively precarious position. Instead, he focuses on the possibilities of being able to step into a team at a moment's notice. While we at Deep Throttle certainly don't wish ill to anyone in terms of losing a ride, it would be terrific to see Memo on the track again in 2002.
On His Itinerant Lifestyle: While legend says Memo Gidley lives in a truck, the truth is, unless there's snow on the ground, he has a place in Indianapolis where he spends most of the year. When not back home in Indiana, he lives in the San Rafael area. Yes, he does travel to races in his truck. Obviously, with races taking place throughout the world, this is going to mean he will miss a few if he's driving to get there. But, clearly, this is a man who thoroughly enjoys his life. And, overwhelmingly, racing is his life.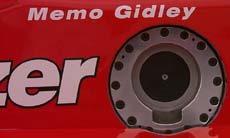 On His Goals and Aspirations: I asked him about his heroes. Memo said he had been asked before about this and had replied he had been in racing such a short time that he didn't have any racing heroes. Well, I'm a much better essayist than an interviewer, so I didn't ask him again if he had any heroes other than racing heroes. Instead, I asked him what he hoped to accomplish in his life. He let me know his goals encompass being successful in everything he does. I'd have to say, for someone who had done no racing at all 10 years ago, Memo is well on his way.
On His Hawaiian Karting Commitment: Every year, Memo travels to Hawaii. Usually, this is in November or December. There's not as much karting in Hawaii as there is on the Mainland, so Memo's actively involved in promoting karting as a youth sport on the island of Oahu. By all accounts, this is a wildly successful undertaking. Memo mentioned how much he enjoys both working with the kids and promoting racing in our 50th state.
On the Economics of Racing: It's always about money in the end, so of course, we discussed the fact that the typical CART team spends somewhere between $10-$12 million per car per year. These costs make it difficult for American drivers such as Gidley to obtain enough sponsorship to run the full CART schedule. Companies with advertising dollars expect a return on their investment. Foreign drivers, such as Tora Takagi – who is funded almost entirely by Honda – do not face the same types of funding pressures.
Hopefully, the rule changes going into effect for 2003 will have a positive effect by making racing less expensive and will allow opportunities for more American drivers. And, certainly, Memo Gidley deserves to be at the forefront of these drivers.
Copyright &copy 2002 by Lisa Davidson and Deep Throttle. All Rights Reserved.