Laguna Seca Driver Interviews
Laguna Seca, CA, June 9, 2002 — Julie Andre scours the pit lane and paddock looking for drivers to answer her questions. At Laguna Seca, she asks various drivers their thoughts on some of the most recent developments on the CART circuit -- Team Ganassi expanding to three cars and the latest rule changes.
JULIE: How has the transition been going expanding the Target team to a three-car team?
BRACK: I do not think there has been any negatives or positives at this point, but it is still too early to say.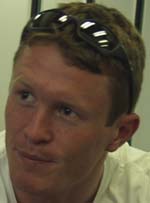 DIXON: The transition has been pretty good. I think Chip and Lee White from Toyota have done a pretty good job of getting the resources and people together. I think that if it was going to be a rough transition then they would not have done it to start with. They have done a lot of work behind the scenes. I think at this point in time there are a lot of people available and having some people come from PWR [approximately six people] made it a little easier as well.
JULIE: What do you think about the new CART rule, which will require that all cars be weighed with their respective drivers beginning with the Grand Prix of Mid-Ohio?
BRACK: I do not think that it is going to make a difference one way or another. I think that perhaps it would be best if they would have done it before the season started because then everyone would have a chance to test with what they are going to race with. The weight distribution in these cars is critical and moving ten pounds forward or backwards can make a difference in the handling of the car. Without testing it can be tricky to get it right. But I guess the system they are using makes sense, so I think that it will be alright.
JUNQUEIRA: That's not good. It's an excuse for the other drivers and just makes things more complicated. For CART to be able to do it, they will have to buy 3 or 4 big car scales, put them on the "pit in," and weigh all the cars when they are finished with qualifying. It's a big mess and nobody is going to like it. The weight makes a little bit of difference, but it is more about what's in your head that makes a difference.
DIXON: I think that it is only fair. I think larger guys like Papis and Tracy, although he has lost some weight, had a bit of a disadvantage from little guys like da Matta. There is definitely a 50 pound difference in some of the guys, which is a lot of time around the track. It depends on how they are going to do it that is the problem because there could be a lot of variance with it.
CARPENTIER: I think that it is good and it will help even up the field. I started out weighing about 144 pounds and now I am about 160 pounds, so I am looking forward to the change.
JULIE: What are your thoughts about freezing the development of major aerodynamic components after Portland for the road courses and after Chicago for oval tracks?
BRACK: I don't know. I think we will just have to get everything right before Portland and Chicago.
JUNQUEIRA: I think that it is good. It will help to reduce costs. The cars are really equal and it doesn't matter anymore if you have a Lola or a Reynard. No reason to change a lot of things and spend that much money. I think it will be good for CART.
JULIE: Are plans for Formula One in your future?
DIXON: Testing is the only thing that we have looked at. We had some time scheduled for May but then we were looking at running in the Indy 500 and then sort of skipped everything. I don't know. We will see what happens. We may schedule something towards the end of the year.
Copyright &copy 2002 by Julie Andre and Deep Throttle. All Rights Reserved.