Fontana Driver Interviews
Fontana, CA, November 3, 2002 ó Julie Andre scours the Fontana pit lane and paddock looking for drivers to answer her questions on the controversial Surfers Paradise race, the proposed V-10 normally aspirated engine spec, and going from a street course to a superspeedway.
JULIE: What is your opinion on ending the Australia race on lap 41?
TAGLIANI: I think it was a weather condition and there was nothing we can do about it. I was a little bit disappointed because my car was good in the rain, and I started passing people, and at a certain point with the strategy we had we would have finished on the podium, if the race would have gone 50 laps like they had decided in the beginning. But you know its nature and you need to accept decisions.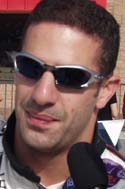 KANAAN: I think it was ridiculous. I do not even understand why they started the race but after you start it you either stop it half way or you go the full distance. Obviously they did not think about carefully because they made us look like idiots.
DA MATTA: I think that they did the right thing because they gave everybody a chance to do two stops. If they had stopped it before then some people would have made one stop and some people would have made two. This way they made it the same for everyone.
DIXON: It didnít really bother me because we didnít go very far but the decision was kind of strange how they came up with 41 laps. It seemed like they like they picked out whoever they wanted to win.
JUNQUEIRA: Really bad! You had a few laps of racing and 31 laps behind the pace car. Thatís not a race. The result was completely wrong. Even if they had finished it at 36 laps it would have been wrong. They should have finished the race on the last green lap because that is when we had a race or finish on lap 36 because that is what is in the rules and not give anybody points. Take out the points because that was not a race.
CARPENTIER: For me it was fantastic! I think that it was the best decision that CART ever made. No seriously, nobody knew when they were going to end it 36, 41, or 39 laps. But you know itís life, itís racing. Sometimes it works for you and sometimes it doesnít. Last year they shortened the race, and we got caught up in it, and it didnít work out for us.
JULIE: In your opinion should CART consider changing the rules when it comes to racing in the rain on Street Courses?
TAGLIANI: I mean itís a tough call like if you have a little bit of water and its damp you can race. The little bit of spray in the back of the car that is created in the rain is very low so the visibility is still good. When it is really wet you do not see on the street courses because the visibility on the side is not there like it is when it is open on the road course. You are traveling through a tunnel of fog. The first thing I would suggest would be a standing start. Even if it is dry you would reach turn 1 very slowly instead of getting launched on a rolling start. But on the other hand people say on the street courses where it is very narrow if somebody stalls and everybody is spread out and you are the last one to see it, the result could be a really hard hit. So you see, you can change something but you will always have another problem. So I do not want to be the one to make decisions.
KANAAN: I think that the drivers and CART should get together and discuss the conditions because yes, sometimes itís possible to race and sometimes itís not and obviously Australia was not and nobody asked us. They just decided to put on the show anyway. And we put on a good show didnít we? Did you see all the cars we crashed?
DA MATTA: I think that the rules are okay. The only thing wrong was the amount of rain coming from the sky. You can not control Mother Nature.
DIXON: I do not know. Australia was a pretty bad race, obviously. They could not predict the rain and things like that. I do not think that the race should have been run, but the other way to look at it I guess is if they complete more than half the race under yellow next year no points will be awarded which I think is fair because no one should get points for the race because no one really raced. I am sure they will continue looking into that area because of what happened.
JUNQUEIRA: CART and the Chief Steward have the power to make decisions at every race, and they made a terrible decision at Australia. I do not think that a rule needs to be made.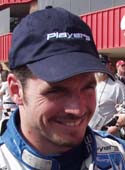 CARPENTIER: Itís just because we had such a huge crash at the beginning of the race and we couldnít see a thing. We have that at Portland sometimes but it is a straightway in the beginning and at Australia it is like a long corner and we couldnít see a thing so some of the guys couldnít turn. Itís going to happen in the rain; itís racing. I did it in Toronto once and it was just as bad. Maybe they shouldnít have raced in Australia but Sunday night they had contracts and had to take the race down, so they really had no choice.
JULIE: Is the transition from Street/Road Courses to Ovals difficult for a driver?
TAGLIANI: The first couple of laps you need to get used to just turning left all the time and you need to get used to leaning differently in the car. I think if the car is great, it can give you a lot of confidence, and you are able to go fast quickly. If you have a bad car then it is a little bit more difficult to get used to it.
KANAAN: Well after you get used to it, itís just the speeds that you have to get used to when you come from a road course to a super speedway. I do not think it is a huge thing. You just need a different mentality. You need to be really smart and calm. On the road and street courses, you can attack more.
DIXON: It is a little difficult but you get your two days to sort of feel it out. There is not a whole lot of difference, obviously, there is with the tracks, but we have all done it before.
JUNQUEIRA: For me it is fine. I like racing on both types of tracks. My team seems to give me a fast car no matter what, whether it is a street course, road course, or oval.
CARPENTIER: It is not too bad I have been doing it for many years. I think it is hard for the engineering and the mechanics to set the cars up for the different tracks.
JULIE: CART announced in a recent business meeting that intends on using a V-10 normally aspirated engine similar to those used in Formula One in 2005. Do you think that the comparison to Formula One will hurt the series?
TAGLIANI: I do not know. I mean I think safety is first. If they build a safe car wherever they build, it I will race it. I do not think that it will hurt the series.
KANAAN: No, I donít think we need a change. What it is and whatís best for CART, I donít know. But definitely the way we are, we need a change. Itís hurting CART, hurting the drivers, and itís hurting the fans. It is going to be close to Formula One, but 2005 is three years from now so you never know.
DA MATTA: I think they have to do whatever is going to be better for the sport and competition. If it is more difficult to drive then the teams who are better will stand out more.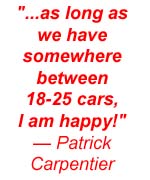 DIXON: I think they have a great formula here with great venues. It is the closest thing to Formula One. I think it produces a lot of great drivers. The turbo engine is good but maybe with smaller engines and a bigger tail base they can control it better down the track. But then again, I think the engine manufacturers have a lot to say in what they want to bring to the series. It probably will depend on that.
JUNQUEIRA: Itís a very good idea. I think they have to have the same V-10 engines as Formula One to attract the Formula One engine manufacturers. I believe that it could help the series.
CARPENTIER: It is good news if that is what happens because maybe Bernie Ecclestone will get involved. I do not mind as long as we have somewhere between 18-25 cars, I am happy!
JULIE: What will you miss the most about CART?
KANAAN: My friends. I made a lot of friends here. Some of them are going with me, but a lot of them are going to stay. I will miss them a lot. I know there are a lot of things that I am not going to miss but there are also a lot of things I will especially racing on the street and road courses. But hey, it is a new goal, and I am really excited about it. Definitely my friends are the most important thing. Friends are for life. Racing at the end of the day is just racing.
Copyright &copy 2002 by Julie Andre and Deep Throttle. All Rights Reserved.