Fontana Diary:
Day One
California Dreaming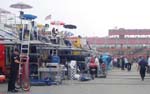 Fontana, CA, November 1 — You could have cut through the tension with a knife at ISC's premiere West Coast venue, California Speedway, on Friday, as the Fontana race weekend began. All the promise and hope so evident in Monterrey as the 2002 season began has dissipated into confusion and apprehension as the year's racing draws to a close.
There's too much uncertainty for most of us and too much evidence of Roger Penske's desire to bury the series he helped start for one to ignore. So, it's with a sense of irony that CART's penultimate event for the year is being held at a raceway Penske developed.
Jeff Davidson got a chance to interview 2002 Champion Cristiano da Matta yesterday – an exclusive interview that actually contained some surprises. Yes, we all know that the choice of where he's driving in 2003 is largely up to da Man. What we learned is that he has one week to make up his mind. Is it just me, or does da Matta's decision timeline appear to be stretching faster than the elastic on Anna Nicole's stretch pants? Geeze Louise, I thought he was supposed to make up his mind this week!
At any rate, Cristiano told Jeff he's either driving for Newman-Haas in CART or for Toyota in F1. But, I get a sense that he's waiting for something – what for, I don't really know. He's not interested in driving in F1 for anyone but Toyota, ever he says, but seems committed to perhaps defending his CART title. All I can say is, let's wait for next week.

Adrian Fernandez announced he is racing for CART through 2004. And he doesn't know about his second car. There was lots of gossip in the paddock about the loss of the FedEx title sponsorship and how Roger Penske is going after them as a title sponsor for the Eye-Are-Hell. If the later is true, the Captain has truly become the Prince of Darkness. Speaking of which, the weirdest of all happenings today was seeing Michael Andretti getting booed as he drove his motor scooter into his pits for practice.
For many of us, Michael Andretti is a racing icon, and in some of our opinions, a better driver than papa Mario. Having watched drivers over the years and observing how they get around racetracks, there are two primary modes of transportation. There are drivers such as Jimmy Vasser, who prefer to ride little pit bikes for just a little bit more exercise, maybe? And then there are the motor scooter guys, such as Michael and Kenny Brack who clearly want to get around as fast as possible.
Today, as Michael was leaving the garage, there were the usual yells of "Michael, Michael" as he passed by on his scooter. But, there were also loud calls of "you traitor" which he totally heard but fortunately did not acknowledge.
Now you all must know that I am "mad" at Michael for deserting the series that made him and his career – and I am mostly angry because he has said some pretty nasty things publicly about the future of CART. That being the case, I would not go out of my way to talk to "The Defector" – but I would not call the man names – especially within earshot of his team and family. I've got to say, I was appalled at how he was treated today at California Speedway, and he was truly a champion with the way he handled himself. Hopefully, this will not be repeated as Michael – and the series – deserve better.
Saw Chris Pook briefly and I get the sense – yet again – that there's something important he's not telling us. What seems to be missing from the whole equation is that there have been precious few announcements for next year. This has naturally gotten everyone – whether they be fan, driver, or member of the media – nervous and endlessly gossiping about what may or may not happen. We have just a few months before the start of next season.

So, there's a sense of bittersweet here this weekend as Honda and Toyota take their final bows as engine manufacturers and we've had no announcement about the precise role of Ford about the details of their engine deal for 2003. And, this will be the last US race in CART, perhaps, for drivers such as Dario Franchitti and Scott Dixon, to name two. It's truly a changing of the guard mode – but it is my hope that there will be more drivers than ever next year between the two open wheel series.
In the mean time, California Speedway, in spite of an affiliation with the Prince of Darkness, is a beautiful and well-managed facility. The weather was beautiful today and the weekend promises to be an interesting one. There's qualifying (okay, I admit, oval qualifying is a bit of a snore, but keep up!) and the Truck race tomorrow, and Sunday, there's nothing but the 500.
There's nothing like a three-hour race to get this girl's heart thumping. Well actually, as long as you mention it, there is, but we won't discuss it on a family web site. It's certainly something I'm looking forward to. That, and going out to play with my friends in the media. They're a fun loving bunch, so tune in for my Saturday and Sunday diaries because I have a feeling the blondes are gonna have a fun time this weekend!
Copyright &copy 2002 by Lisa Davidson and Deep Throttle. All Rights Reserved.