Chicago Driver Interviews
Cicero, IL, June 30, 2002 — Julie Andre scours the Chicago pit lane and paddock looking for drivers to answer your questions. Then, she had a few of her own to solicit drivers' thoughts on the new aerodynamic package used on the short ovals, the pit lane speed limiter, and having a single engine manufacturer for the 2003 season.
READER TO MICHAEL ANDRETTI: I heard a rumor you may be buying Motorola and going to the IRL along with Team Kool Green. Tell me this is not true. You belong in CART.
ANDRETTI: A rumor is just what it is. I heard Robin Miller say this. He seems to have my whole career planned out for me.
READER TO MAX PAPIS: Since you are in the top 10 in the championship, any prospects of picking up another ride to complete the season and contend for the title?
Although Julie did not personally speak to Max at Chicago, she heard that it is unlikely that Sigma will continue to race this year in CART. Therefore, Max Papis would be relived from any of his contractual duties. He was at Chicago on Saturday ready to step in if one of the other drivers was unable to drive. After all the drivers qualified, and his services were not needed, he flew to Italy to participate in another race. Former CART driver Roberto Moreno was also at Chicago.
READER TO JIMMY VASSER: When you were racing for Patrick Racing, was Visteon your sponsor or was that a thanks for sponsoring you at the Belle Isle race in 2001? And second of all, will you be with Rahal next year?
Unfortunately, Julie was unable to get a response from Jimmy Vasser. They did not have a Media Happy Hour because it was a two day event, and he was busy throughout the week-end with sponsor activities. Julie will ask him at Vancouver.
JULIE: What do you think about the new aerodynamic package for Chicago? Can CART do anything else to improve passing in the future?
DIXON: Did they change the aero package? I hadn't noticed. Well adding more downforce to the cars on the short ovals is a step in the right direction, but it hasn't made passing any easier.
KANAAN: I think that we are making a step in the right direction. I think that we still need to improve a bit. We need more downforce, but we are getting there. We are making changes every year, and we are getting better. Definitely, it is better than before but we still need another step.
TAGLIANI: The thing is the compromise between the corner speeds is going to change in a place like this, with the package we have right now. I think CART is stepping in the right direction. It was a good step. At least we knew it was a little more comfortable in traffic than it was last year, but little difficult to pass, and I think this track especially has a little bit to do with it because the straights are so long and the corners are so tight, so the track itself - not only the wing package - the tracks make it a little bit more difficult to pass. In Milwaukee, for example, there are wider turns and shorter straights, you could see maybe a little bit more passing than here. But I think here a little bit more difficult, but on the wing package, I think we're heading in the right direction.
FRANCHITTI: I think with the road course wing it takes a little more finesse to drive with less downforce and I think you'll see more passing.
DA MATTA: I think we need to evaluate the road course wing. Some people would say the road course wing on the car will have two lines; they saw that in Milwaukee. It is improving the passing, but the people that are making the rules are concerned that if you lose the car at 25, 30 miles an hour, higher speed in the corner might be more dangerous, so, it's difficult to make everybody happy, but this wing is going in the right direction.
JUNQUEIRA: I think that CART is taking a step in the right direction, but the cars need more downforce to improve on passing. It is still very difficult to pass.
JULIE: What are your thoughts about the new pit lane speed limiter?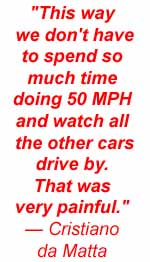 DA MATTA: I think it is very good because before we had to keep 50 MPH all the way to the entry of the race track which is sometimes far away from the actual end of the pit lane and now we can go up to 85 MPH from the end of the pit lane to the race track entrance. It is almost double the speed in this area. This way we don't have to spend so much time doing 50 MPH and watch all the other cars drive by. That was very painful.
DIXON: I think any innovation to improve safety is a good idea.
KANAAN: I think that it is a lot safer. It's working for everybody. It was a good move.
JULIE: What are your thoughts about having a single engine manufacturer for the 2003 season? What affect will this have on the competition?
DA MATTA: I think that the way it is today, with three engine manufacturers, is already very competitive because the engine manufacturers push each other to the absolute limit and the engines are very equal right now. Next year, we are only going to have one engine manufacturer, Ford, which makes it impossible to have anything more equal than that. It is going to be up to the drivers and the team to make a good car and to have a good car set up. I am glad we are staying with the turbos. You work hard your whole career to drive something with a lot of power, and then they suddenly take it away. Keeping the turbos with over 800 horsepower is what most of the drivers like to drive, and I think that is what the people want to see.
DIXON: The engine manufacturers have always helped to promote CART races. Although I am glad to see that CART will be keeping the turbo engines, I believe the lack of sponsor dollars from these engines manufacturers may hurt the series. As far as competition goes, I do not think the series can get anymore competitive.
JUNQUEIRA: I don't think competition can be any closer than it is right now. It would be better if more manufacturers were in the series, but I think that it was the right move to make for CART.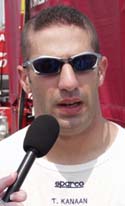 KANAAN: I think to move forward sometimes you need to go backwards, and I think that it was the right decision right now. Competition is always healthy, and I would like to see more engine manufacturers, but for now it was the best choice we did, and we are going to stick with it. We have a great series and great drivers. Everybody is having problems, not just CART. People say CART is having problems, but everyone is just look and see at how the stock market is doing.
Copyright &copy 2002 by Julie Andre and Deep Throttle. All Rights Reserved.