Keeping It Off the Wall
by Ed Donath

A Small Prophet
4/29/04

Athens, NY—Here we go again. As the calendar is about to flip into May, that same tired old scenario is unfolding. You know how the story goes: "Our sponsors feel they need the kind of exposure that only the Indianapolis 500 can provide…blah, blah, blah."
So just when you thought that the new lean-and-mean Champ Car World Series had finally been cleansed of the last traces of its double-dealers, wafflers and doomsayers—with CART co-founder U.B. "Pat" Patrick's somewhat politically correct exit from the series while Bobby Rahal and Adrian Fernandez rationalized their way into despicable last-minute desertions—yet another "surprise" emerges.
"Tony George has tried to kill us but he won't succeed," Paul Newman declared dramatically upon the announcement of Judge Otte's decision to allow OWRS, not the IRL, to run Champ Cars. "There are too many people out there who prefer open wheel racing on street and road courses [and] I feel a loyalty to these people."
Later, the rich and famous half of the geriatric Newman-Haas partnership indicated that his name would never adorn an Indy car. He also implied that if his unlit cigar-chomping cohort ever becomes hell-bent on running Indy then he would have to go it alone on his own dime.
So how have the latest "surprising" media reports confirming Bruno Junqueira's addition to the list of 2004 Indy 500 hopefuls (in a NHR Honda-powered Panoz G Force that will carry the identical PacifiCare livery to that of Junky's Champ Car benefactor, no less) made you feel about your favorite acting/racing septuagenarian?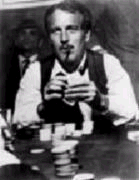 Not only will the star's name go into the IRL 500 team owners' record book but, as is customary, he will even get top billing. Baby-blue-eyes deserves an Academy Award for his totally believable anti-inheritor defiance and vitriol act.
This all makes one wonder whether Newman or perhaps one of his pet charities isn't the latest flip-flopping beneficiary of Honda largesse. Hey, didn't Cristiano da Matta win a CART championship for Newman-Haas with Toyota power?
The OWRS troika has been blind-sided yet again, and this latest disingenuous act is tantamount to the bad PR heaped on the Champ Car World Series last May when Mario Andretti showed up at IMS to help "launch" his son's team ownership experiment by testing in one of his crapwagons—after endlessly professing loyalty to CART and his undying distaste for the all-ovals series.
One remedy for this annual pre-Indy media concentration on Champ Cars detractors and hypocrites is to schedule either multiple events during the month of May or to go the US 500 route and to stage a counter-event during Memorial weekend.
A race the magnitude of the LBGP run during a holiday weekend would not only satisfy "the sponsors" but would also placate the specific presenting sponsor of that event, Toyota—which also continues to have an important stake in OWRS vis-a-vis its namesake Champ Car ladder series, Toyota Atlantics.
And speaking of the LBGP, both the inheritor of Indianapolis Motor Speedway and ForMoola One's czar were in attendance at last week's event. While Grandpa Chris Pook certainly arranged for his old pal Bernie the Boss to have a VIP credential for his research project, it has been reported that the splitter of our beloved speed sport was forced to actually purchase a grandstand ticket as a result of his persona non grata status with the new series owners.
Encouragingly, Grandpa Chris' longtime assistant and current Long Beach Grand Prix Association president/CEO Jim Michaelian announced that the event experienced better walk-up ticket sales than it did last year, also revealing that, despite the bankruptcy of CART and general uncertainty about the viability of the Champ Car World Series, the '04 event actually generated a small profit.
Wouldn't it be ironic if the cash spent at Long Beach by the f-1/f-inheritor entourages were enough to put the LBGP promotion over the top and into the black? Take it from this small prophet:
In the absence of a business plan that provides Champ Car teams and their sponsors with a profitable alternative to running Indy, the same tired old scenario—and bad PR karma that goes with it—will recur annually. Furthermore, if the OWRS partners aren't more careful, you just might run into one or more of them in the LBGP walk-up ticket line next year.
Copyright &copy 2004 by Ed Donath and Deep Throttle. All Rights Reserved.
Ed Donath Archive