Keeping It Off the Wall
by Ed Donath

Flaming the Fans
3/7/04

[Photo of Dick Eidswick by Richard Thomas - The Detroit News]

Athens, NY—You may recall that, in his initial CART public announcement, Joseph Heitzler double-talked his way through some lame BusAdmin101 mumbo jumbo about being accountable to the all-important "stakeholders". Christopher R. Pook's first speech was slightly more forthright, promising to work his butt off to fix what Uncle Joe and the Boards had broken. Nonetheless, Grandpa Chris' message was shareholder-biased as well.
Thankfully, in a refreshing departure from that sort of team owner/stockholder sycophantism, OWRS President Dick Eidswick opted to make the fans of our beloved speed sport the focus of his first public message about the long-awaited launch of an all-new Champ Car World Series.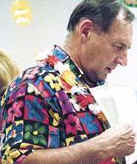 "Our fans are always incredibly supportive of our series and we want to give them a chance to get a little closer to our teams and drivers," Eidswick spoke about the details of the forthcoming so-called Spring Training.
"We are also very excited about doing this in Long Beach, where we will kick off the 2004 Champ Car season on April 18 with the thirtieth anniversary of the Toyota Grand Prix of Long Beach, which has long been one of our marquee events," the loud-shirted new Champ Car President continued.
So a smattering of news that has the potential to flame the fans has finally trickled out of Champ Car headquarters. To put it bluntly, PR has been a virtually non-existent commodity since OWRS' troika got the judge's nod to take over where CART left off.
Prior to last week's announcement that Paul Tracy had been elected the RACER/SPEED readers' Racer of the Year, the official Champ Car website's headliner—for nearly a week, no less—was a nostalgia piece about Rick Mears' historic two-time CART championship back in 1981.
Many present day Champ Car fans hadn't even been born when rapid Rick achieved that distinction and most of those younger fans, understandably, probably couldn't care less about old geezers who they know only as f-inheritor driver mentors.
For sure, the elimination of a few expendable shills and scribes is a viable method of cutting expenses. But in these folks' absence, someone needs to be burning the midnight oil working at cranking out at least enough information to keep fans—and commentary writers— from falling asleep until the racing begins.
At this critical point there are far too many unanswered questions that could be offset, at least somewhat, by a little creative PR and some fresh, low-cost website activity. Furthermore, what makes this info shortage thing even sadder is that—as positive as any subsequent news might be—most future stories, of necessity, will need to be spun to prove the premise that less is more.
Simply because OWRS has rescued Champ Car racing, at least for the time being, and brags about having a great business model to which it is ready, willing, and able to stick indefinitely, doesn't make the immediate status of the series any rosier.
The $64 Question this week: How do you get fans excited about a lamer-than-ever season in a vacuum?
Copyright &copy 2004 by Ed Donath and Deep Throttle. All Rights Reserved.
Ed Donath Archive