Keeping It Off the Wall
by Ed Donath

Fashion Bashin'
4/23/05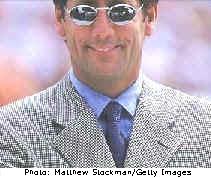 Athens, NY—Of course the brain part of the Indianapolis Motor Speedway inheritor's head is missing from the photo to the right of this paragraph; an image used as accompaniment to Robin Miller's latest SPEED offering. That's because, as most of you realize, there is no there there.
Need proof? Check out the fabric mismatch the moron's tailor put over on him. I'll bet he got nipped for at least a grand this time around. Oh well...easy come, easy go.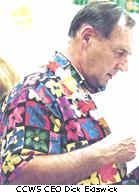 But what on earth is Dick "Don Ho" Eidswick's excuse? How could he be so naive as to initiate contact with the splitter of our beloved speed sport? Do you think he groveled much as he made his proposal that Champ Cars and f-inheritor "crapwagons" should adopt equal engine/chassis specs to enable event sharing at Indy and elsewhere?
Despite his lack of a motorsports background, you would still conclude that after more than a year as OWRS' CEO, Eidswick would have learned something about the history of the "split" and the wealthy, egotistical, hypocritical jerk who perpetrated it.
"I've been talking to Mario [Andretti] a lot," Eidswick confided to Miller. "Because he's so knowledgeable and passionate about open wheel racing and that's why I thought getting together with Tony was so important because time is of the essence."
That explains it. Dicky has been drinking Indy 500 Kool-Aid with Dad.
Surprisingly, five whole months have elapsed since Mario's last dead horse-beating exercise. That's when this commentary was penned to sum-up my feelings about a great racer who many fans now agree with me "should have left it at that."
Nonetheless, and despite Anton's ongoing failure to even acknowledge the reunification efforts of Dick Eidswick's new best bud, it appears that this odd couple may actually have some things in common. For starters, they obviously share a distorted sense of fashion.
Accustomed, by now, to buying his way into and/or out of things, Mr. Emptyhead must believe that it is merely a matter of time before he will outbid the Champ Car company for venues such as Long Beach and the Molson Indys. So why bother going through the motions of being "cordial" to Dick Eidswick?
We all know that the inheritor's single asset is his control over the future potentialities of Mario Andretti's favorite event. But what does Dick Eidswick bring to the bargaining table as OWRS' titular head?
Eidswick's bargaining chip is engines. Once Toyota and Honda forsake f-inheritor within the next year—GM and Nissan are long gone and there aren't any manufacturers lining up to participate—the new Cosworth Company is likely to be the only viable resource for purpose-built formula car engines. Hey, weren't the last batch of Chevy-badged IndyCar motors actually Ford Cosworths?
Motor sports can create some unusual bedfellows. One reason why Kevin Kalkhoven and Gerald Forsythe purchased Cosworth from their marketing partner, Ford. In business it's good to have a monopoly on something.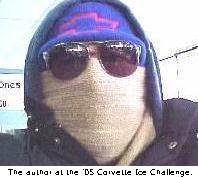 A dearth of technical diversity in the Champ Car World Series is one of the biggest reasons for my growing lack of interest in the series. The prospect of having two American open-wheel series running with the same spec engines could finally turn this renegade scribe into an invisible man...
...or the Motor Sports Unabomber.
Kevin Kalkhoven:
Please click on the e-mail link below.
Road Rage! An op-ed feature by Ed Donath.
Copyright &copy 2005 by Ed Donath and Deep Throttle. All Rights Reserved.
Ed Donath Archive