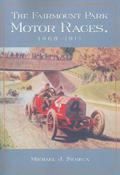 Order this book today

HOME

About Us

Articles

Book Reviews

Records/Stats

Links


PHOTO CREDITS
Left: The Locomobile Type 1906, "Old 16", driven by George Robertson on its way to winning the 1908 Vanderbilt Cup on Long Island.
Center: Action during the 1916 Vanderbilt Cup event at Santa Monica with William Bolden (#12) leading Omar Toft.
General History Links
MAGAZINES

| Title | Comments |
| --- | --- |
| Vintage Motorsport | The Journal of Motor Racing History, celebrates the heroes of motorsport, the people, cars, and venues that have given the sport its rich heritage. In addition, the magazine covers current vintage racing. |
| The Alternate | An excellent chronicle of 20th century motor racing history. |
| Victory Lane | The monthly news and feature magazine of vintage and historic auto racing, collecting and events for the participant and enthusiast: sports, racing and performance, car collecting, concours, shows, rallys, hillclimbs, resources, restorations, cars, parts and services for sale, events schedules. |
| Vintage Oval Racing | The vintage and historic oval racing news magazine. Owned by Victory Lane magazine. |
| Vintage Racecar Journal & Market Report | The source for history, restoration and market value information. Columnists include Peter Lyons. |
WEB SITES

| Title | Comments |
| --- | --- |
| Dick Ralstin's Racing Page | Newspaper columnists and manager of public relations for Goodyear's racing division. Here he relates many of his racing experiences. |
| The Vintage Racer | An online archive dedicated to all the legendary tracks, drivers, and racing machines of yesteryear. |
| Historic Racing | Driver bios, photo galleries, technical artiles, historic events, books, and links on all sorts of racing. |
| Al Blixt Auto Racing | Al (Ace) Blixt was involved in auto racing from the 1920's to the 1950's as a driver, car owner, photographer, writer, and racing official. |
| Old Racing Cars | This site is devoted to recording the lineage of race cars in the F5000, Can-Am, 3-Liter F1, and Tasman Series. |
| Cold Plugs | Concentrating on US sports car racing in the 50s and 60s, the site owner has put up various photos from his collection, and a treasure trove it is. |
| Holman Moody | Holman Moody was for years the official racing contractor for Ford. They prepared GT40s, A/FX Mustangs, Shelby Cobras, Falcons, and Stock Cars. They raced in NASCAR, sports car racing, drag racing, rallys, and ocean boat racing. |
| Studebaker Racing | "If it's information about Studebaker Racing, You will find it here..." And boy are they right. The most complete compilation of Studebaker's racing heritage in stock car and open wheel racing along with the men who drove them. |
| All American Racers | F1, Indy cars, and sports cars, Dan Gurney did it all. His way. The history of this extremely successful company is all here. |
| McLaren Motorsport | History and memorabilia on this famous racing manufacturer. |
| Great Racing Cars | Devoted to the engineering marvels of the racing world, both practical design and visionary design, this site tells the story of some of famous race cars. |
| Vintage Automobile Racing Engines | Photo gallery of large selection of vintage big car and midget racing engines. |
| Bell Auto Parts | Celebrates the history and importance of Bell Auto Parts to the development of racing in America, from 1923 through the 1950s. |
| AMC Racing History | AMC? Racing? You betcha. And lots of it too -- sports car racing, stock car racing, drag racing, off road, and even Indy racing. It's all here. |
| Chicagoland | Dedicated to the preservation & promotion of Chicagoland auto racing history -- both stock car & open wheel. |
| New Zealand Motor Racing History | New Zealand may be a small country, but they have made huge contributions to the sport of racing. This site covers it all. |
PHOTO GALLERIES

| Title | Comments |
| --- | --- |
| Jesse Alexander | Forty years of exquisite motorsports photography. These historic images are drawn from Jesse Alexander's archives and his 1998 book "Forty Years of Motorsport Photography." |
| Dave Friedman Photojournalism | Thirty years of photos (sprint cars, endurance racing, Can-Am, Trans-Am, NASCAR, and F1) from one of the best. |
| The Klemantaski Collection | This not only includes one of the greatest racing photographers of all time, Louis Klemantaski's, vast photo collection (~55,000 photos) but other photographers as well bringing the total to over 400,000 photos. |
| Greenfield Gallery Collectibles | Many collectible photos for sale, featuring NASCAR, Indy car, Sprint car, Midgets,and Short Track Racing from the 1930s onward. |
| LaSheef's Racing Photos | Well over a thousand NASCAR Modifieds, SCRA, World of Outlaws, and Winston Cup photos. |
| Yesterday's Neuz | Photos from Larry Neuzel's collection from years past including ALMS, Can-Am, Formula 5000, IMSA, Indy 500, Indy Cars, and Sprints/Midgets. Now includes videos! |
| Vintage Sportscar Photos | Allen Kuhn's portfolio contains thousands of photographs spanning from 1956 – 1965 |
| Trophy Girls | Doesn't matter what era they are from, there are always beautiful trophy girls. Here are photos from the 1930s through the 1950s. |
Also check the history links pages for resources.
Do you have an historic auto racing web site
that you feel belongs on this list?
Then please the URL, and we'll check it out.
If we agree, we'll put it up here.