Mosport Coverage:
Pro Mazda Race 2
Blackstock Wins His First Series Race
Bowmanville, Ontario, Canada, July 21 — Shelby Blackstock took advantage of a bobble by the leader on the 12th lap to take the top spot and pull away for his first Pro Mazda Championship win.
"This is a huge weight lifted off my shoulders," he said.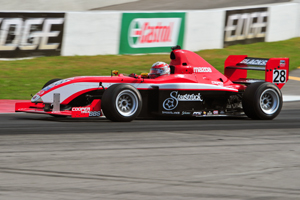 <!p class='regcaption'>Shelby Blackstock took the lead on the 12th lap and never looked back.<!/P>
Blackstock started second behind Saturday's race winner, Spencer Pigot. Pigot got the jump at the start with Blackstock tucking in behind him. Meanwhile, Matthew Brabham, who was slated to start sixth, but lined up fifth when Juan Piedrahita could not make the start after his big crash the day before, took fourth before the first go-around.
Pigot was able to initially pull away, but Blackstock and Nicolas Costa caught back up. Brabham then joined the fray. The close battle eventually took it's toll. Costa and Brabham got together in Turn 8. Brabham was eliminated immediately while Costa limped around to finish the lap, pulling off after the start/finish line. This all brought out the only full course caution of the race.
"Unfortunately, Matt had a really rough race and I am not sure what happened," teammate Blackstock said.
This moved Scott Anderson, who started sixth, up to fourth. Pigot once again nailed the restart, while Anderson caught Diego Ferreira sleeping, leapfrogging into third. Then, the race changing 12th lap occurred.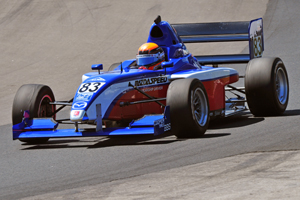 <!p class='regcaption'>After seven consecutive wins, Matthew Brabham got a third and a DNF at Mosport.<!/P>
Blackstock explained, "When I saw Spencer [Pigot] get in the marbles, I took the position and once I went to the last corner I saw Diego, Scott and Spencer three wide and I said OK, head down and dig. I just did that and tried not to make any mistakes and made a gap."
The three-wide battle behind the new leader wound up with Anderson in second, Ferreira in third, and Pigot falling all the way to fourth.
"The car was sliding around a lot, and it's so close up at the front that when the car isn't just right, it's hard to keep the lead and I fell back to fourth," Pigot said.
Blackstock did exactly what he wanted to do -- open a gap which was a large as three seconds at one point. It was clear sailing the rest of the way, as Blackstock eventually won by 2.056 seconds.
Anderson remained in second for an American one-two finish. Over the course of the weekend, Americans took five of the six podium spots.
"We have had a lot of fourth-place finishes, so it feels great to be on the podium," Anderson said. "The car was the best it has been all year. By the time I got around Spencer [Pigot], Shelby was just too far gone. I was pushing pretty hard. He definitely had a good pace and with a couple of laps to go, I thought I had best just settle in and try not to make any mistakes and bring home a second place."
"I am very, very happy that we are finally able to get the Starstruck team a win," Blackstock said. "It's a fantastic day."

Photos by
Copyright &copy 2013 by Russell Jaslow and American Driver Ranking. All Rights Reserved.