Mosport Pro Mazda Coverage:
Saturday
Pigot Breaks Brabham's Streak
Bowmanville, Ontario, Canada, July 20 — Matthew Brabham came into Mosport riding a seven-race winning streak, looking to tie the record for most wins in a Pro Mazda Championship season. Spencer Pigot had other ideas.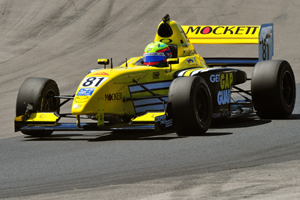 <!p class='regcaption'>American Spencer Pigot won his first Pro Mazda race.<!/P>
"It was a great team effort this weekend," Pigot said. "We were struggling and made a bunch of changes overnight. It's great for me and good for the team. We were working hard all year."
Pigot started second behind Brabham's teammate, Shelby Blackstock. By lap two, Pigot got by for the lead in Turn 8. Pigot slowly extended his lead, but a major crash on the fourth lap involving Juan Piedrahita necessitated a long safety car period.
Ten laps later, they were back to green, and Pigot got a great start to open a slight gap.
"I just tried to go early and get a good jump," he said.
Knowing there was only going to be a few laps left, the field fought desperately for every position possible.
On the second lap after the restart, Brabham and Blackstock went side by side in Turn 8. They continued their side by side racing through Turn 9, Turn 10, and down the main straightaway. Brabham had the inside, and thus finally got the better of his teammate through Turn 1.
"Me and Shelby were fighting for the position," Brabham said.
Second place didn't last long for Brabham.
"I got along the inside and then three corners later I ran a little bit wide, dropped two wheels off, and Shelby passed me."
With the two fighting each other, Pigot should have been able to gap them.
"I couldn't quite break the draft," he acknowledged.
"With the long backstraight, you can slipstream past each other," Brabham said.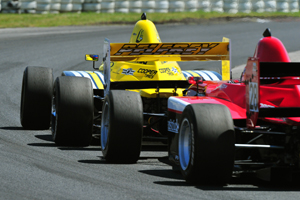 <!p class='regcaption'>The fight for the lead was this close coming out of the last turn of the last lap.<!/P>
On the last lap, the craziness picked up a notch. Pigot bobbled on the back straight, allowing his two pursuers to catch him. Blackstock got alongside, and the fight was on.
"I think he was a little bit ahead of me on the back straightaway and I was just able to hold the inside through Turn Eight," Pigot said.
Blackstock decided to back off to set up Pigot on the next lap, not knowing it was the last lap. In the meantime, Brabham got involved in the battle, and coming out of the last turn, the three were as close as possible. Coming down the front straight, they fanned out, crossing the finish line in a clump.
Pigot hung on to win by 0.118 seconds for his first Pro Mazda Championship victory, followed by Blackstock 0.081 seconds ahead of Brabham. Scott Anderson finished fourth, making it an American top four.
"It was a great race," Brabham said. "I think we all got a little antsy with the long safety car period out there. We were just waiting, waiting, waiting, so when we finally got it going, we were all going pretty hard."

Photos by
Copyright &copy 2013 by Russell Jaslow and American Driver Ranking. All Rights Reserved.